Choose the Perfect Flower Arrangemnt for Your Christmas Table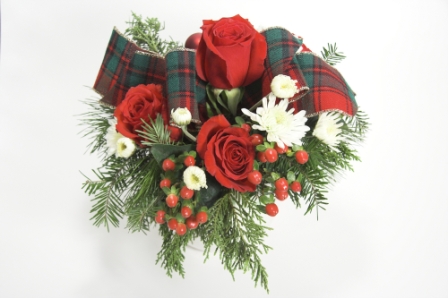 Flowers make a great addition to any Christmas festivities. They can be sent as presents, after all, who doesn't love having flowers delivered, or used as decorations around the home, or they can be used for decorating the dining table. We have seen some incredible displays in our time, and it can be a very rewarding project to come up with new ways to liven up your Christmas table. Our florists have shared some of their best ideas with us, and we are passing them on to you. But they are just to get excited, the wonderful bit of this time of year is coming up with your own traditions and ways of doing things. So we hope the suggestions below give you some inspiration on how you can incorporate flowers into your Christmas table displays but do share your own ideas with us too.
Flower centrepiece
This is probably the most common example of how you can use flowers to liven up your Christmas table. A floral centrepiece is a great option if you are hosting a big family dinner and want to make an impact from the start. Depending on the size of your table and your centrepiece, you might just do a big one for the middle. You could perhaps add some candles or other festive trinkets to make it even more special. Or, maybe you want to create several smaller centrepieces and have them dotted around the table. Depending on how much time and creativity you have to spare, you might want to come up with the designs and craft them yourself, or there is always the option of having flowers delivered and starting from there. Whatever you choose, your floral centrepieces are sure to be the talk of the table and the envy of your guests.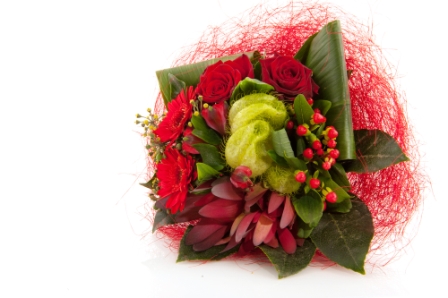 Flower favours
If you'd rather not make people envious and instead make them feel loved, then flowers are a great way to do that. If you have ever received or had flowers by post delivered to a loved one, you know the power that a bouquet can have. And it is no different at Christmas time. So instead of creating a centrepiece that stays with you, you could create floral favours for your guests to take home. Favours or little gifts are common at weddings, and we say why not make them a Christmas tradition too. They will look beautiful when you set out your Christmas table, and your guests are sure to love having a little token to take home as well. Simple ideas could be making a floral brooch using flowers and a safety pin. Or you could press some flowers and give them a personalised place card or similar. Either way, it will show your guests just how much you care and make an impact when they arrive.
Flowers on food
Last but not least, why not make your Christmas dinner even more festive by decorating it with flowers. You could use flowers around the meat or strategically place them in serving dishes. Lots of people top their main course with a sprig of rosemary or thyme, but why not go even further and create a beautiful garland to top the meat. Of course, you can also use lots of flowers in cooking too, so get browsing and find the best rosemary and sage stuffing recipe around, and bring flowers into your festivities in a culinary way.