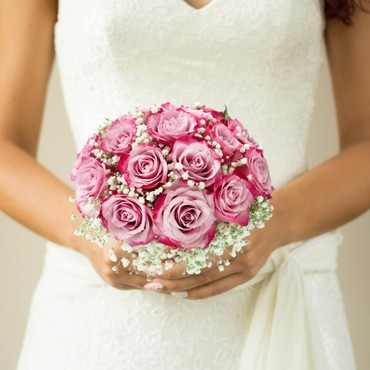 Planning a wedding is both exciting and daunting as it can seem as if there so much to organise before the big event. One of the most important elements of a wedding is the choice of flowers and if you are seeking some inspiration for this year's trends you have come to the right place. Discover some swoon-worthy floral trends that will make yours the wedding of the year and create magical looks for your Big Day.
It's All about Ethical Floristry
Not that many years ago there was a trend of using artificial flowers for weddings so couples could keep their wedding blooms for posterity. However, with plastics being such a no-no and an increasing emphasis on being environmentally responsible, this trend is no longer popular. Decreasing one's carbon footprint is a very real consideration this year which is why many soon-to-be weds are choosing seasonal, local flowers for their Big Day. This means knowing which flowers are in bloom during the season of your wedding and choosing local florists to deliver your flower arrangements rather than relying on flower bouquets that have been created several miles away from your venue.
DIY Floral Displays
Continuing with the green theme, couples are choosing to save money and miles by creating their own wedding displays. Dried flowers are a surprising trend this year with them being used as table décor, confetti and even in wedding invitations. Many couples choose to create their own dried flowers using locally sourced flowers. As you are going to spending so much time, making the displays it is helpful to use the flowers for your ceremony to decorate the reception venue. Again, this is an environmentally friendly way to use flowers at your wedding and is also extremely budget-friendly.
Handmade Bouquets
Reducing the amount of green foam in an attempt to decrease waste is also on-trend in 2020. This is leading to a rise in more natural bridal and bridesmaid bouquets. Should you be considering this, it is important to opt for same day or next day flower delivery at the very latest, so that your flowers remain as fresh as possible for longer. However, if you are not at all creative you may want to consider asking friends and family to help with homemade floral arrangements rather than spend money on flowers only for them to be wasted as you just can't get it right.
Carnations are Back!
The humble carnation is the favourite of many, yet is still considered a cheap alternative to other pretty blooms. This is why it may be a surprise to learn that pale carnations are set to feature in many weddings this year. Pale pink and white carnations will take centre stage in bridal bouquets, buttonholes and table centrepieces in 2020.
Coffee and Cream
Pastels have always been favoured for weddings, especially spring and summer nuptials yet a different colour is now entering the mix. Coffee, caramel and creams are being teamed to create a sophisticated colour palette for weddings in any season. Brown is not a common colour in the world of flowers which is perhaps why it is so sought after this year as people add a twist to their ceremonies and receptions. The chocolate cosmos flower takes things even further by being a flower that actually smells of chocolate! The rich chocolate maroon flower is not only perfect for this year's trend but is a chocoholic's dream. Imagine the scent of chocolate drifting throughout your wedding venue, and as you glide down the aisle. As coffee, caramel and chocolate browns providing the main hue, the cream should be used to offset the palette to provide an elegant overall scheme.